Melatonin supports sleep and healthy immune system.
Benefits
Helps relieve jet lag and enables sleep.

Boosts the immune system and supports healthy moods.
Product Information
**Clearance/on sale items may have 6 month shelf life or less.**

Melatonin is a hormone synthesized by the pineal gland. It is produced from tryptophan, which is converted to 5-HTP, then to serotonin, then to N-acetylserotonin, and finally to melatonin. Sheesh, that's a mouthful, isn't it?
Melatonin's primary role is to regulate the body's circadian rhythm, endocrine secretions, and sleep patterns, and natural melatonin production is directly influenced by day/night cycles. Light inhibits melatonin secretion and darkness does the reverse (promoting melatonin secretion).
Regulating the body's natural rhythms is why melatonin is so well known to world travelers, who move from time zone to time zone and must re-set their body's clock to achieve restful sleep.
Melatonin lowers alertness, body temperature, and performance for three to four hours after administration, enabling sleep. The good news: There is rarely a "hangover" the following day!
Melatonin is considered especially helpful for seniors with insomnia related to melatonin deficiency.
The pineal gland's ability to produce and regulate melatonin levels in the body is considered important for people affected by Seasonal Affective Disorder (SAD) (changes in moods during fall and winter).
A part of the population is unable to effectively adjust their body rhythms to decreased exposure to daylight. Those affected often find themselves craving carbohydrates, which appear to accelerate the production of serotonin, a precursor to melatonin.
Melatonin is not as well known as an immune system booster, but there is a lot of interest in melatonin for its antioxidant qualities as well as its ability to support healthy cell growth (reduced cell proliferation and reduced cellular transformations that are undesirable for optimum health).
Melatonin is gaining interest for a variety of other benefits, including heightening the effect of endorphins, the natural tranquilizers in the body that reduce pain and stress.
Along these lines, melatonin is being studied for its ability to promote comfort associated with normal menopause-related changes and improve moods in menopausal women, support healthy heart, arteries, bones, brain, and immune system functions as well as promote blood sugar levels.
Studies of melatonin are actually exploding, because this supplement has proven to offer a diverse set of benefits well beyond jet lag support!
Warnings
People should not drive or operate machinery for 4 to 5 hours after taking melatonin.
Melatonin has sometimes made dysphoria in depressed patients worse.
Melatonin can reverse the negative effects of propranolol (inderal) and atenolol (Tenormin), but not carvedilol (Coreg), on nocturnal sleep.
Use of melatonin with other sedatives such as alcohol, benzodiazepines, etc. may increase levels of sedation.
Melatonin can stimulate immune function and might interfere with immunosuppressive therapy.
Melatonin may increase human growth hormone serum levels and test results.
Melatonin use in some children with seizure disorders may lead to increased seizure activity. Those with seizure disorders should avoid melatonin supplements.
Aspirin and other NSAIDs, caffeine, or beta blockers may all lead to decreased melatonin levels.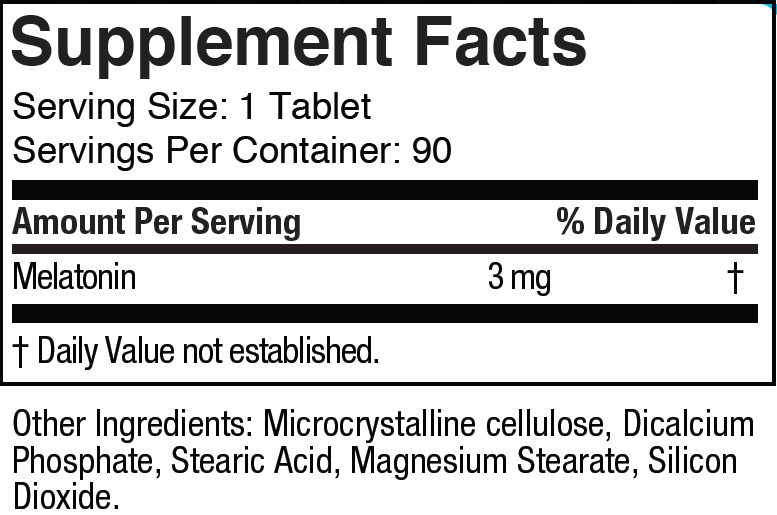 Melatonin
I now replace reversaterol with melatonin as I get most of reversaterol from shallots and greens.
Sleeping Drugs are Bad!
I refuse to take sleeping pills. Melatonin is what God designed to make us sleep. When I do not make enough of my own, I take a Melatonin supplement. I trust the Co-op''''s Melatonin over some other companies because I have proven so many other Co-op products.
Tablets
Tablets are a tad hard to swallow sincethey are not coated. work ok. shipping was fast too.
Melatonin
Could not live (and sleep) without this product