Milk Thistle protects liver health and supports detoxification.
Benefits
Supports healthy liver and kidneys.

Silymarin enhances the detoxification process.
Product Information
**Clearance/on sale items may have 6 month shelf life or less.**

The extract of milk thistle contains primarily of a special compound known as silymarin, a flavonoid compound. Silymarin is known to bolster the liver and enhance the body's detoxification process. In fact, it is even more potent than antioxidants vitamin E and vitamin C.
Much research has been done on how silymarin enhances the detoxification process. Glutathione is very important in binding with fat-soluble toxins (i.e. heavy metals, solvents, and pesticides) and converting toxins into water-soluble compounds that can be readily excreted via the kidneys. Therefore, deficiency in glutathione is significant! Silymarin not only keeps glutathoine levels high when the body is subject to toxic chemicals, it is also known to maintain healthy Glutathione levels in the liver.
Milk thistle supports the health of liver cells and overall liver and kidney health.   Milk thistle has also shown some promise in supporting prostate and breast health.
Use of milk thistle can be traced back more than 2,000 years.  Milk thistle is an annual, or biennial plant, and is a member of the sunflower family. It was native to the Mediterranean and is presently grown throughout Europe, the United States, Australia, and parts of South America. Milk thistle is commonly found growing wild in a variety of settings, including along roadsides. The seeds of the dried flower are most commonly used medicinally, since silymarin is the active constituent of the milk thistle seed.
Warnings
Some patients may have allergic reactions to milk thistle. Allergic reactions are more likely to occur in patients sensitive to the Asteraceas/Compositae family such as ragweed, chrysanthemums, marigolds, and daises.

Milk thistle may cause an occasional laxative effect or gastrointestinal upset. This will usually cease in 2 to 3 days.

For organ-transplant recipients or anyone taking immunosuppressents, consult your physician before the use of milk thistle, as milk thistle may affect these drug levels.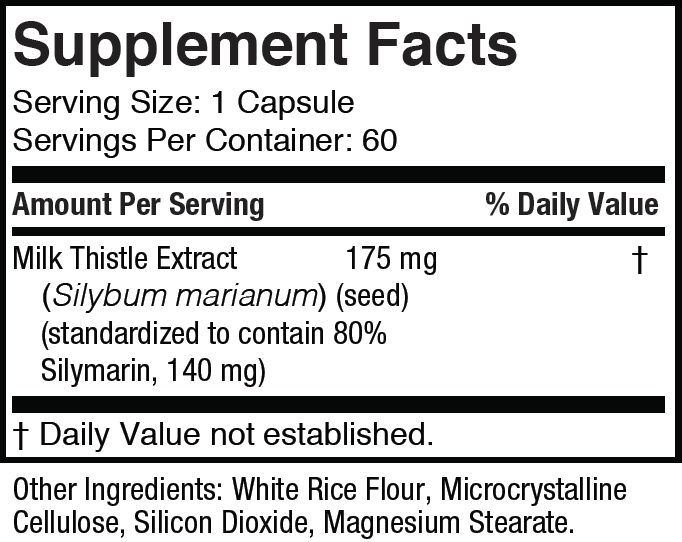 Great supplement
Since taking Milk Thistle, my liver enzymes are always within normal limits! All my life I fought with elevated enzymes, so you can imagine how happy I am now that they are normal!
milk thistle
Low prices and quick delivery. Also great prices.
,Milk Thistle
I try to help my liver out all I can!
Just started this one
This for liver cleanse after taking a medication that did not agree with me. Trying to clean out and it seems to help. I feel much better.
Good for the liver!
Having the hereditary disease hemochromatosis, I need to keep the liver clean and functioning properly. This milk thistle does the trick!