Eye Protection, 120 Vegetarian Capsules *Newly Improved Formula*
---
Eye Protection with Lutein, Zeaxanthin, Bilberry and Taurine, for overall vision health.
Benefits
Supports overall visual acuity and eye health

.

Provides potent antioxidant activity and helps prevent age-related ocular impairment

.

Promotes night vision and protects underlying ocular tissues from photodamage
Product Information
New! Lutein Beadlet Delivery System
Our revamped formula contains organic and non-GMO 100% pure lutein extracted from the petals of marigold flowers. While our previous formula included lutein in a powder form, our new Eye Protection contains lutein beadlets instead. Two capsules give you the same potency and dosage as our old formula, but the delivery system is far superior.
Why are beadlets better? Beadlets are more stable than powders in multi-ingredient formulations, meaning they will protect lutein against anything that could lessen its effectiveness, like dramatic temperature changes or general loss of potency over time. Carotenoids like lutein are relatively unstable molecules that can break down even during the manufacturing process. Beadlets erase the potential for manufacturing errors and improve the supplement's shelf life. In fact, lutein beadlets are often used in functional foods that need to withstand high temperatures in the oven (think cereals, granola bars, and crackers) to maintain the carotenoid's strength.
Four Players Team Up for Macular Health: Lutein, Zeaxanthin, Bilbery and Taurine
Lutein is found in high concentrations in broccoli, spinach, and kale; however, these greens have very little zeaxanthin. Substantial amounts of lutein and zeaxanthin are present in kiwi fruit, grapes, orange juice, marigolds, zucchini, and different kinds of squash. Corn is richest in lutein and orange pepper is richest in zeaxanthin.
Lutein is a carotenoid that is typically found in combination with zeaxanthin. Together they make up two of the major carotenoids found in the human macula and retina. Compared to other carotenoids, lutein has demonstrated the boldest benefits for eye health in research studies. These two pigments are thought to function as antioxidants and as a blue light filter protecting underlying ocular tissues from photo damage. Interestingly, zeaxanthin is the dominant component in the center of the macula, while lutein dominates at the outer edges. Research indicates that high dietary intake of lutein may protect against age-related ocular damage and support overall vision health.
Also known as "Huckleberry," Bilberry is used to support visual acuity, including night vision, and it comes from the dried ripe bilberry fruit. The active ingredients in bilberries are called anthocyanins, which are thought to help decrease vascular permeability, promote optimum microvascular blood flow, and encourage proper interstitial fluid balances in the macula. Bilberry leaves also contain the polyphenol resveratrol, flavonoids such as quercetin, and a substantially high concentration of chromium, which is thought to help maintain healthy blood glucose levels.
Taurine is a non-protein amino acid that is involved in the pre- and post-natal development of the visual as well as central nervous system. The most abundant source of taurine is actually human breast milk. Interestingly, it has potent antioxidant activity. Although better known for its role in promoting cardiovascular health, taurine is also involved in retinal photoreceptor activity.
Taurine is found in high amounts in the retina and taurine research was greatly stimulated by the finding that it is an essential nutrient for cats! Taurine deficiency in cats can result in things like central retinal degeneration. Shortly after this discovery, it was found that infants fed formulas lacking taurine had abnormal electro-retinograms.
**Serving Size is Two Capsules**
Serving size is two capsules of our new formula to get the same effects as one capsule of our old formula. So remember to take two for potent protection against eye damage.
Warnings
Simultaneous administration of lutein with beta-carotene may reduce bioavailability of lutein.
Olestra theoretically may interfere with supplemental lutein, since Olestra lowers serum lutein concentrations in healthy people.
Lutein is a fat-soluble antioxidant, so it is best to take it with a meal that includes some fatty foods to increase its absorption.
Member Tip:
Research shows that lutein dosing for about 18 days is needed to reach steady levels in the body. Optimum eye health also requires antioxidants like vitamin A, vitamin E, zinc, and selenium.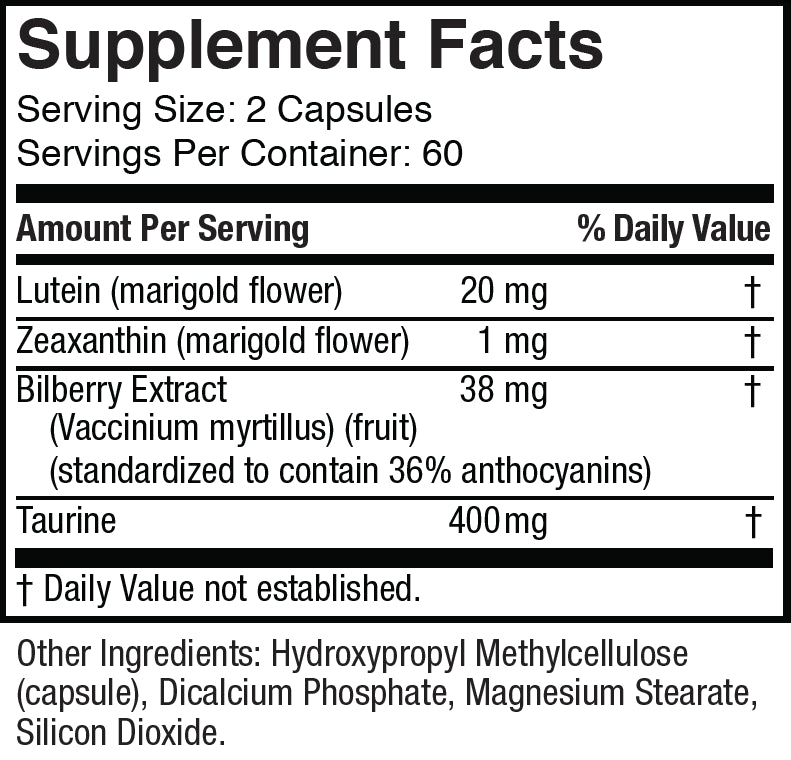 Very Useful
I just started back on the eye vitamins and have missed them. They include ingredient that are not in other eye protection vitamins.
Eye protection works
For about 5 yrs. now I've been told I have excellent vision, but have cataracts that are going to need to be removed. But all this time they have not progressed, & the eye doc even sent me to the cataract surgeon a few mo. ago to check it out. Nope, you're still ok -- no need to do anything, was the reply. I credit the EYE PROTECTION capsules.
Eye Protection
Excellent product.Has helped our vision, seemingly slowing cataract growth.
Amazing Product
I can see the difference, actually see it, when i am taking this supplement formula and when I am not.
Important ingredients
Eye health is important to my husband due to some health issues. This eye protection formula is the best I can find at such a great price.