Green Tea Extract (50% EGCG), 400mg, 90 Vegetarian Capsules
---
Green Tea Extract supports cardiovascular health, immune system function, and antioxidant activity!
Benefits
Supports healthy digestion and detoxification

.

Assists in mood maintenance and immune enhancement

.

Promotes energy efficiency, a healthy metabolism, and anti-aging

.

Provides cardiovascular, nervous system, and bone density support

.
Product Information
Green tea has been used for over 5,000 years to support healthy digestion, mood maintenance, immune enhancement, detoxification, energy enhancement, and anti-aging. Unlike black and oolong teas, green tea does not endure a fermentation process and thus retains a host of beneficial phytonutrients. 
Specifically, green tea contains high concentrations of polyphenols—plant-derived antioxidant compounds linked to health benefits ranging from immune system support to cardiovascular health.
The primary polyphenols found in green tea include four catechins—epigallocatechin gallate (EGCG) being the most potent and extensively researched. As an antioxidant, EGCG ranks up there with ascorbate (vitamin C) and glutathione, and helps move harmful substances and unwanted microbes out of the body!
Green teas heart health benefits stem from its ability to soothe and normalize on cells and spur the production of nitric oxide, which acts to keep blood vessels relaxed and blood pumping efficiently.
Green tea also supports neurological and brain health by scavenging free-radicals and supporting healthy neuron function.
In addition to its well-known heart health benefits, green tea's EGCG support bone mineral density.
Green tea can come in various forms, including the whole leaves (used in beverages and some supplements) and in an extract form (with standardized percentages of stated active ingredients, such as polyphenol and catechin contents). While our Green Tea Extract has been decaffeinated, there is a common misunderstanding that decaf equals caffeine-free, which is not so.
For those sensitive to caffeine, heres what you should know about the caffeine content in Our Health Co-op's Green Tea Extract and how it compares to other common beverages:
Coffee (8 oz brewed) = 135mg

Black tea (8 oz) = 40-70mg

Green tea (8 oz) = 25-40mg

Cola (1 can) = 35-55mg


Cell Nutritionals Green Tea Extract (1 capsule) = 7mg



Decaf coffee (8 oz) = 5mg

Decaf black tea (8 oz) = 4mg
The numbers show that our Green Tea Extract is in the range of decaf beverages, but still merits tracking for those sensitive to caffeine.
Warnings
Avoid taking green tea with milk. Milk might bind the antioxidants in tea and reduce their benefits.

Green Tea mouthwashes have been shown to support gum and dental health.
Green tea polyphenols have shown to suppress the growth of unwanted microbes in the gut, but

not

the growth of gut-friendly bacteria like

lactobacillus

.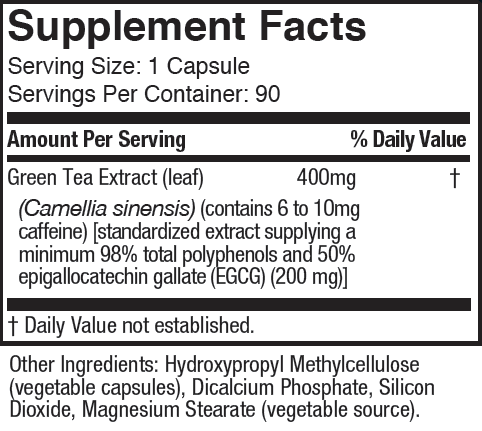 Part of my good Heath routine everyday!
Great product. Part of my daily good Heath routine . Great quality along with excellent customer service.
TEA
A GREAT PRODUCT WOULD NOT BR WITHOUT IT
Green Tea Extract review
The order was shipped promptly. I was taking this product for a month and did not noticed any specific effect, good or bad.
Green Tea Extract
Good product which I've been taking for years now!
Satisfied Customer
Fair price. Fast shipping. Excellent product.