B Vitamin Trio reduces homocysteine build-up and supports cardiovascular, cognitive and immune health. Also supports PMS comfort for women.
Benefits
Lowers homocysteine levels for overall cardiovascular health

.

Promotes healthy moods and may encourage a healthy pre menstrual cycle

.

Supports GI, liver, and kidney functions

.

Supports a healthy immune system and the metabolism of amino acids, carbohydrates, and lipids

.

Supports healthy blood pressure already within the normal range.
Product Information
**Clearance/on sale items may have 6 month shelf life or less.**
Many researchers now agree that boosting your stores of the "mighty vitamin B trio" is strongly associated with a greater cardiovascular health. The combination of folic acid, vitamin B12, and vitamin B6 has been shown to significantly lower homocysteine levels.
A Look at Folic Acid
Only discovered in 1945, folic acid (also known as folate or folacin) is used by the body for intracellular metabolism, DNA synthesis, and conversion of homocysteine to methionine. Folic acid is a member of the B-complex family (B9), and was given its name because it is found in foliage such as dark green leafy vegetables. Other natural sources of folic acid are apricots, avocados, carrots, egg yolks, liver, melons, whole grains, and yeasts. Unfortunately, modern diets tend to be deficient in this essential nutrient, which is why in 1998, U.S. food manufacturers were required to add folic acid fortification to all cold cereal and baking flour products.
Folic acid is used to promote healthy moods as well as supporting GI, liver, and kidney functions.
Vitamin B6 - Pyridoxine
Vitamin B6 is another valuable B-group vitamin, because of the multiple biochemical reactions in which it is involved, including an active role in the immune system and metabolism of amino acids, carbohydrates, and lipids. B6 is found in meat, poultry, fish, eggs, white potatoes, and other starchy vegetables, non-citrus fruits, and fortified cereals and soy products. B6 is found concentrated in muscle mass.
Even marginal deficiencies of B6 may result in immune deficits and a variety of other health issues.
Supplemental vitamin B6 may be helpful in promoting a healthy pre menstrual cycle, and evidence indicates that it may support heart, skin, and arterial health as well as neurologic resilience.
Vitamin B12 - Methylcobalamin
Based on member demand, we have upgraded the form of B12 in our Sublingual B Trio to methylcobalamin (we formally used cyanocobalamin). Methylcobalamin is a coenzyme form and a more natural form.
While methylcobalamin is active immediately upon absorption, cyanocobalamin must be converted to the coenzyme form first. The rate at which this conversion occurs may be reduced by aging, making one deficient in this essential vitamin.
Vitamin B12 is naturally found in animal products. The richest sources are the liver, brain, and kidney; other sources include egg yolks, clams, oysters, crabs, sardines, salmon, and the heart. Lower amounts are in fish, beef, lamb, pork, chicken, cheese, and milk. Plant products are typically devoid of B12 and it is thought that only bacteria manufacture the vitamin. Some fermented plant products, such as tempeh, may have some vitamin B12.
B12 and folate are helpful in converting homocysteines to a heart-healthy element called methionine, the precursor of natural SAMe which supports healthy moods.
Warnings
There is a slight possibility that taking folic acid may mask the symptoms of pernicious anemia (B12 deficiency). However, this can easily be avoided by taking a B12 supplement along with folic acid, and this is why you so often find these two supplements mentioned together
B12 deficiency is actually fairly common and can lead to problems ranging from treatable, mild memory loss all the way to irreversible, neurologic symptoms.  For this reason, some researchers have recommended regular periodic screening of the elderly for early detection of deficiencies.
Gastric surgery patients are even more at risk and should be regularly monitored for B12 deficiencies.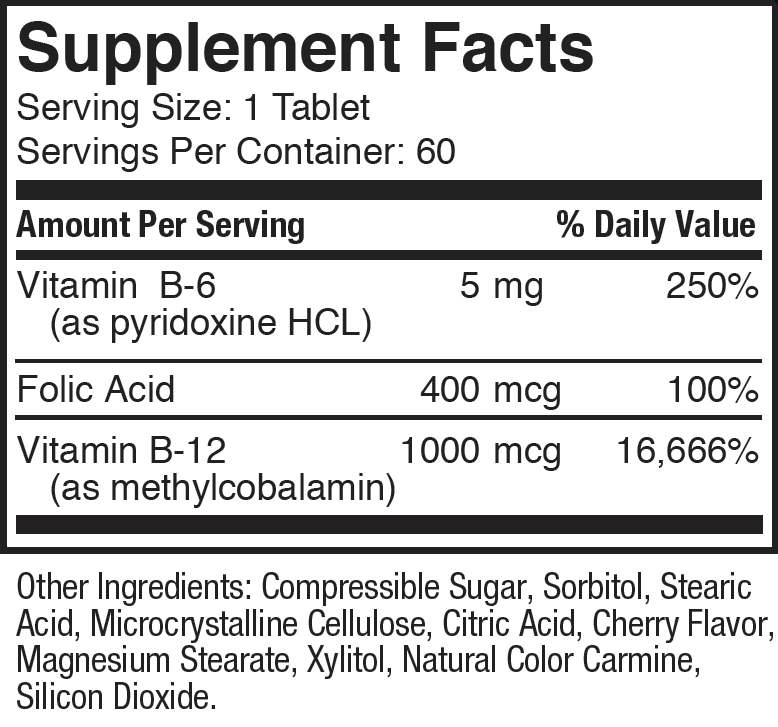 B Trio Delish
These B vitamins help to supplement my mostly vegan diet and they taste so good.
B Vitamin Trio
I enjoy the flavor and ease of taking it.
Review of B Vitamin Trio
I have been taking this product for some time and will continue to order it from OurHealthCo-op. Your website is easy to navigate, the price of the product reasonable, and my order was delivered in an extremely timely fashion.
Love everything
Great product and great prices! Fast shipping!